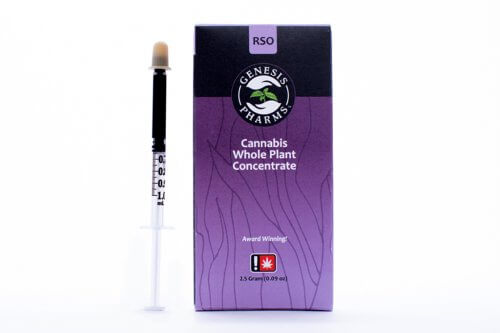 Genesis Pharms Suppositories now packaged in thin syringes that can provide direct rectal delivery! Packages come with 5- .5 gram syringes. Oil can be eaten, cooked with or as a single use suppository. Cannabis concentrate used rectally can help speed the "ramp up" program for people requiring a gram a day to fight disease. With the least psychoactive effect of our RSO products, it also allows an increase of RSO without interrupting the flow of your day.
To make your own RSO suppositories with coco butter:  melt 3 grams of coco butter and mix with 1 gram of warm RSO. Emulsify and pour into molds. Let cool. Can be stored in freezer.
---
Genesis Pharms carries several forms of Rick Simpson Oil
---
Find a dispensary selling Genesis Pharms RSO products near you!